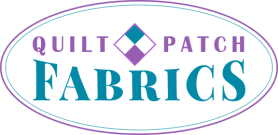 New Classes!
We just added 6 new classes to our website!
Go to quiltpatchfabrics.com/classes.htm
for details and call us to register! 704-821-7554
Upcoming Classes


Superbowl Quilt Party, Sun. Feb. 7, 1-6 pm $25
Join our quilting tailgate party!



Lucky 13--Sat., Feb. 13, 10-3 pm, $35
Simple strip piecing-a great follow up to the Beginning Quilting A-Z class!



Tuffet--Sat., Feb. 20, 10-2 pm & Sat., Feb., 27, 10-1 pm, $80
Make your very own decorator foot stool!



Quilt Retreat
Pajama Party Quilt Retreat -- March 6-9, 2016 -- One Spot Left!
Join us for a relaxing 3-day retreat set in the beautiful mountains of North Carolina. No cooking or cleaning, just fun and friendship-you deserve a little pampering! We call it the Pajama Party because you can roll out of bed and come to class in your jammies! And the comfortable, beautifully decorated retreat facility is especially outfitted for the needs of quilters. For more information go to quiltpatchfabrics.com/classes.htm