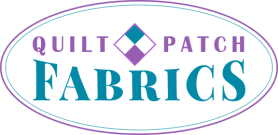 Valentine's Day Sale!
20% Off Valentine's Day Fabrics
& Everything 2012 or Older
That's Fabric, Books, Patterns & Notions!
25% Off for Barefoot Club Members!
Sale starts tomorrow, Feb. 12-Sat. Feb. 13



We will not have our Second Saturday Sew this month.

New classes added to our website!
Go to quiltpatchfabrics.com/classes.htm
for details and call us to register! 704-821-7554

Upcoming Classes


Lucky 13--Sat., Feb. 13, 10-3 pm, $35
Space still available!
Thirteen fat quarters and simple strip piecing make this lovely throw.
A great follow up to the Beginning Quilting A-Z class!



Tuffet--Sat., Feb. 20, 10-2 pm & Sat., Feb., 27, 10-1 pm, $80
Make your very own decorator foot stool!



Beginning Machine Quilting--Sat., March 5, 10-1 pm, $25
Learn the basics of machine quilting using your own sewing machine. We'll cover straight line, stencils and free motion quilting.

Deborah's Odds & Ends--Sat., March 5, 1:30-6:30, $35
If you've taken a class with Deborah and you don't remember what to do, or you need a little more help, or you just want time to work it--
this is the class for you!

Quilt Retreat
Pajama Party Quilt Retreat -- March 6-9, 2016 -- One Spot Left!
Join us for a relaxing 3-day retreat set in the beautiful mountains of North Carolina. No cooking or cleaning, just fun and friendship-you deserve a little pampering! We call it the Pajama Party because you can roll out of bed and come to class in your jammies! And the comfortable, beautifully decorated retreat facility is especially outfitted for the needs of quilters. For more information go to quiltpatchfabrics.com/classes.htm