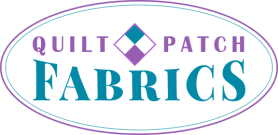 Happy Easter!
Quilt Patch Will be Closed
Saturday, March 26, for Easter Weekend

We wish you and your family a beautiful Easter weekend!

NEW KITS!


Baltimore Spring



This gorgeous Baltimore album wall hanging is actually a printed panel! Just cut out the squares and place wherever you like. Want to make it larger? Get two panels and add sashing!

Kits are available for the wall hanging as shown (but there are only two left!).

To the Moon

When you need a baby quilt-fast! Whip up this sweet little play quilt for a boy OR a girl. Or you can put the panel on the back of a quilt and make it two-sided! Kits are available for the baby quilt as shown.
Upcoming Classes!
New Classes Added to our Website!
Go to quiltpatchfabrics.com/classes.htm for details and call us to register!
704-821-7554
Color Wheel -- Saturday, April 9, 10:00-3:00 pm, $35
Try this easy cascading strip quilt that's running rampant with color!
Sugar Twist --
Saturday, April 23, 10:00-3:00 pm, $35

This beautiful strip friendly pattern looks more difficult than it is. There aren't any actual triangles-I promise!