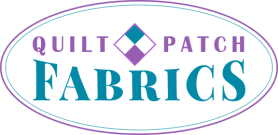 Think Spring!
Tula Pink's Spring Line:
Chipper
You asked and we listened! Introducing Chipper, the new line from Tula Pink--just in time for spring! Available in 10" squares while they last.
Baltimore
Spring
This gorgeous Baltimore album wall hanging is actually a printed panel! Just cut out the squares and place wherever you like. Want to make it larger? Get two panels and add sashing!

To the Moon
When you need a baby quilt-fast! Whip up this sweet little play quilt for a boy OR a girl. Or you can put the panel on the back of a quilt and make it two-sided! Kits are available for the baby quilt as shown.
Upcoming Classes!
New Classes Added to our Website!
Go to quiltpatchfabrics.com/classes.htm for details and call us to register!
704-821-7554
Color Wheel -- Saturday, April 9, 10:00-3:00 pm
Try this easy cascading strip quilt that's running rampant with color!

Sugar Twist --
Saturday, April 23, 10:00-3:00 pm

This beautiful strip friendly pattern looks more difficult than it is. There aren't any actual triangles-I promise!
Off the Rail --

New Date!

-- Sat., May 7, 10:00-3:00 pm

Add the partial seam technique to your quilter's toolbox while making this fat quarter friendly quilt. Do a scrappy look (with fat quarters) or plan it out using yardage--your choice!
Beginning Quilting A-Z
--

New Dates!



Saturday, May 21 & Saturday, May 28
Got the itch to learn how to quilt? This is the class for you! Think of this table runner as a small quilt; everything you learn here you can apply to any size quilt you'd like to make!