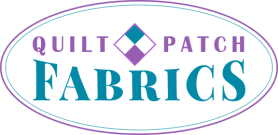 Busy Weekend at QPF
Barefoot Club Weekend
This Friday and Saturday is our Barefoot Club Weekend! Barefooters will receive 20% off their total purchase!
You're still not a Barefooter? Ask us all about it-it's easy and membership never expires!

(excludes classes & quilting)
Saturday Night Sew-All Are Welcome!
This Saturday, April 16, is our monthly Saturday Night Sew!
Bring something to work on and enjoy an evening in the best of company. Sew starts at 3:30 and goes until 8:30, we'll order out for dinner around 5:30, and the cost is $2. Call us to reserve your seat: 704-821-7554

New Kit: Thyme in the Garden
Great Classes
We had a fantastic Color Wheel Class last Saturday! There were so many beautiful color combinations, and we just had to share this customer's interpretation of the pattern. She took these fabrics and the Color Wheel pattern...
...and made this beautiful two-tone version! We especially loved the chipmunks, from Tula Pink's new line Chipper, as the binding --such a nice touch of color! It will also look great on the back! We'd be happy to kit this up for you-just give us a call at 704-821-7554. See more class photos on our Facebook page.

Upcoming Classes!
Go to quiltpatchfabrics.com/classes.htm for details and call us to register!
704-821-7554
Sugar Twist --
Saturday, April 23, 10:00-3:00 pm

This beautiful strip friendly pattern looks more difficult than it is. There aren't any actual triangles-I promise!
Off the Rail --

New Date!

-- Sat., May 7, 10:00-3:00 pm

Add the partial seam technique to your quilter's toolbox while making this fat quarter friendly quilt. Do a scrappy look (with fat quarters) or plan it out using yardage--your choice!
Beginning Quilting A-Z
--

New Dates!



Saturday, May 21 & Saturday, May 28
Got the itch to learn how to quilt? This is the class for you! Think of this table runner as a small quilt; everything you learn here you can apply to any size quilt you'd like to make!