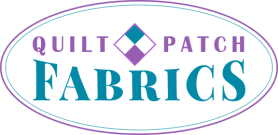 It's Barefoot Weekend!
Barefoot Club Weekend!
This Friday and Saturday, May 20 & 21, is Barefoot Club Weekend! Barefoot Club members will receive 20% off of their total purchase. This is the perfect time to pick up that fat quarter pack or Layer Cake you've been eyeing. And it's a great opportunity to get the backing for your current project!

Not a Barefooter yet? It's easy to join! A small, one-time fee of $15 makes you a lifetime member. On the third weekend of every month you'll receive a 20% discount, and when we have sales throughout the year you'll get an additional discount!
Join today!


New Kaffe Fassett Fabrics!
Selections from the new Spring Collection have arrived!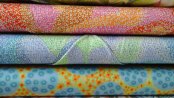 Saturday Sew
Join our Saturday Sew this Saturday, May 21, 3:30-8:30. Bring whatever you'd like to work on and enjoy the company of other quilters! Just give us a call to reserve your seat as space is limited (704-821-7554). There is a $2 fee and we usually order out for dinner. See you there!



Gear up for Row by Row
2016!
We're getting ready for the 2016 Row by Row Experience and the official Row by Row fabrics are here, just in time to make a tote bag for your travels! We're excited about the this year's theme: Home Sweet Home. The idea of home can be so many things to different people; what does home mean to you?

Upcoming Classes!
Go to quiltpatchfabrics.com/classes.htm for details
Call us to register
704-821-7554
Diva Wallet --
Saturday, June 18, 10:00-3:00 pm

The perfect accessory! You'll want to make one to go with every bag! You can even use it as a clutch. And don't worry about the zipper-it's easier than you think!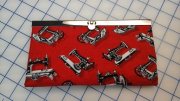 Jellystone Park --

NEW DATE!

--Sat., July 16, 10:00-3:00 pm
The beautiful twists and turns in this quilt are a result of simple strip piecing and careful placement. Try the same pattern in only 4 colors for a striking variation!





Beginning Quilting A-Z
Saturday, May 21 & Saturday, May 28
Got the itch to learn how to quilt? This is the class for you! Think of this table runner as a small quilt; everything you learn here you can apply to any size quilt you'd like to make!