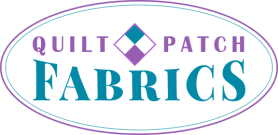 New Classes-New Dates!

Hot Enough for You?

It's way too hot outside! We've turned down the a/c in the quilt shop--come hang out with us! Chill out with some cool fall colors or wintry blues and whites. How about some breezy fresh corals and soft greens? And take a look at this cutie pie! If he doesn't inspire thoughts of a cooler climate nothing will!


Come on in and share the second best invention ever--
air conditioning! (The best invention is the sewing machine,
of course!)



Barefoot Sale Weekend


This Coming Friday & Saturday
Not tomorrow-it's this coming Friday, Aug. 19, and Saturday, Aug. 20. Barefoot Club Members get 20% off of their total purchase (excluding classes and quilting services).
Not a member yet? It's easy-just ask us how. You can join the same day and the discount will pay for itself!

This is the perfect time to pick up that fat quarter pack or Layer Cake you've been eyeing. And it's a great opportunity to get the backing for your current project!


Saturday Night Sew
Everyone is Welcome!
Looking for some dedicated time and space just for you? Join our Saturday Night Sew next Saturday, Aug. 20. It usually starts at 3:30, but since there's no class that day you're welcome to come as early as you'd like (but not before 10:00 am, please-
we won't be here yet).

Bring whatever you'd like to work on and enjoy the company of other quilters! If you're new to the area it's a great way to meet nice people. Just give us a call to reserve your seat (704-821-7554). There is a $2 fee. We usually order out for dinner and wrap up around 8:30 pm. Hope to see you there!



How is Your Row by Row
Experience?
We've had a lot of Rowers visit us since the official start of the Rowing season. Some from as far north as Canada and as far west as Montana!

Our 2016 Row has been very well received-we've seen it in pictures of two finished quilts so far, one in Georgia and one in North Carolina. But we still haven't had a winner at our shop, so get busy you Rowers out there-we have a beautiful bundle of fat quarters with your name on it! And if you're the first one to show us our Row in your finished Row by Row 2016 quilt we have a prize just for you!


Upcoming Classes!
Go to quiltpatchfabrics.com/classes.htm for details
Call us to register
704-821-7554
Diva Wallet --
Saturday, August 27, 10:00-3:00 pm

The perfect accessory! You'll want to make one to go with every bag! You can even use it as a clutch. And don't worry about the zipper-it's easier than you think!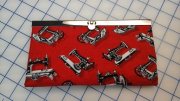 Double Irish Chain -- Sat., Sept. 10, 10:00-3:00 pm
Have fun with this traditional quilt pattern! Eleanor Burns' famous "Quilt In A Day" techniques greatly simplifies the process so there aren't a thousand little squares to cut and piece.


Beginning Quilting A-Z
Saturday, Sept. 24 & Saturday, Oct. 1, 10:00am-3:00pm
Got the itch to learn how to quilt? This is the class for you! Think of this table runner as a small quilt; everything you learn here you can apply to any size quilt you'd like to make!
Sugar
Twist
-- Sunday Sept. 25, 1:00-6:00pm
A deceptively simple Layer Cake or Jelly Roll friendly quilt.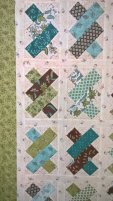 Beginning Machine Quilting
Sunday, Oct. 2, 1:00-4:00pm
Tired of all those beautiful quilt tops laying around? It's time to learn how to machine quilt your own projects! We'll cover straight lines, stencils and free motion quilting techniques.
Pajama Party Quilt Retreat
Sunday, Nov. 13-16
Join us for a relaxing 3-day getaway in the picturesque mountains of North Carolina. No cooking or cleaning, just fun and friendship-you deserve a little pampering! We call it the Pajama Party because you can roll out of bed and come to quilt class in your jammies! And the comfortable, beautifully decorated retreat is outfitted especially for the needs of quilters.
Keep an eye on our website for the class project.