Sunday, Oct. 2 & Sunday, Oct. 9, 1:00-6:00pm
Got the itch to learn how to quilt? This is the class for you! Think of this table runner as a small quilt; everything you learn here you can apply to any size quilt you'd like to make!
-- Saturday, Oct. 1, 10:00-3:00pm
A deceptively simple Layer Cake or Jelly Roll friendly quilt.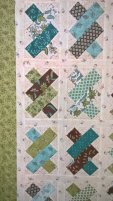 How To Make A T-Shirt Quilt

Saturday,. Oct. 8, 10:00-3:00pm
Don't keep those memories folded up in a drawer-turn them into a quilt to cherish. Learn the basics of how to make a t-shirt quilt and make your own one-of-a-kind memory quilt!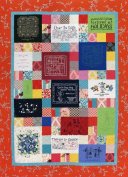 Beginning Machine Quilting
Sunday, Oct. 23, 1:00-4:00pm
Tired of all those beautiful quilt tops laying around? It's time to learn how to machine quilt your own projects! We'll cover straight lines, stencils and free motion quilting techniques.
Basket Weave
-- Saturday, Nov. 5, 10:00-3:00pm
Stretch your skills with this jelly roll friendly quilt,
using 90 degree triangles.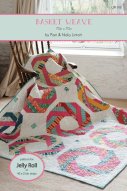 Pajama Party Quilt Retreat

--Full
Sunday, Nov. 13-16
Join us for a relaxing 3-day getaway in the picturesque mountains of North Carolina. No cooking or cleaning, just fun and friendship-you deserve a little pampering! We call it the Pajama Party because you can roll out of bed and come to quilt class in your jammies! And the comfortable, beautifully decorated retreat is outfitted especially for the needs of quilters.