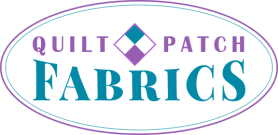 Only 3 Days Left!

Patriotic Prints & Notions 20% Off - 25% Off for Barefooters! Only 3 Days Left!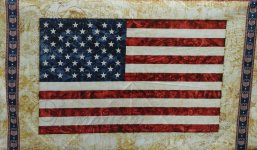 Quilting Expo


Columbia, SC, Fri., July 21-Sat., July 22
Two days of quilting fun! Your favorite vendors featuring booths filled with quilting fabrics, knitting yarns, books, patterns, embellishments and more. Sewing machine and long arm quilting machine dealers, too!

New this year - A quit show sponsored by Quilters of South Carolina and long arm seminars sponsored by The Longarm Network from Greenville, SC. For seminar information call 864-272-3488. For complete vendor information go to www.quiltersgallery.net


Don't miss this fantastic quilt show and vendor expo!
Fri., July 21, 9:00-5:00 & Sat., July 22, 9:00-4:00
Jamil Shrine Center, 206 Jamil Rd., Columbia, SC 29210
The Difference is Digital
Just Arrived! Giverny, an absolutely gorgeous new digital print from Red Rooster, features delicate blooms on a soft blue background subtly sprinkled with raindrops.

What's the difference between digital and traditional textile printing?
Traditional printing uses engraved metal rollers to apply a color paste to the fabric as it is rolled through the machine. Each metal roller applies a different color, typically no more than 10 to 12 colors.

Digital fabric printing is the act of printing digital files on to fabric, with the printing part of the process working much like your desktop inkjet printer, only it can use over 100 different colors. This gives digital fabrics the super deep, rich colors and ultra defined designs. It costs a little bit more-but it's totally worth it!
New Around the Shop
CLASSES
Lotus-FULL
Saturday, July 8 - 10:00-3:00 pm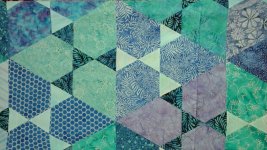 Careful color and value placement gives these tumbling jewels their sparkle and shine. Cut out these jewel shapes in a flash using the Hex 'N More ruler from Jaybird Quilts.
Calendar Quilts - A Wall Hanging of the Month Class

Calendar Quilts
Saturday, July 15, 10:00- 2:00 pm




Learn to make applique seasonal wallhangings, one month at a time!

12 Seasonal wall quilt projects in one booklet, including full sized patterns! These are quick and easy applique designs, great as gifts (but keep some for yourself!). The July class will work on these hungry ants to hang at home in August. Class meets on the third Saturday of every month - come to as many or few as you like!

2017 Pajama Party Quilt Retreat
September 13-16, 2017, Only 4 spaces left!
September 17-20, 2017,

Full




Join us for a relaxing 3-day getaway in the picturesque mountains of North Carolina. No cooking or cleaning, just fun and friendship-you deserve a little pampering! We call it the Pajama Party because you can roll out of bed and come to quilt class in your jammies! And the comfortable, beautifully decorated retreat is outfitted especially for the needs of quilters.




All retreat supplies are 15% off at Quilt Patch Fabrics!
For more information contact
deborahquilts@hotmail.com
.
Geode
Watch for New Dates!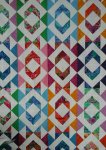 This bold geometric design will add extra sparkle to your home. If you love to make flying geese, you'll LOVE making this quilt!

Mountain Magic
2-Day Class - Date To be Announced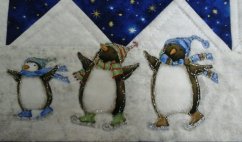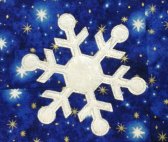 Create your own winter wonderland as you sharpen your triangle skills the Quilt In A Day way! $125 class fee includes kit with background & binding fabric, Magic Mountain pattern, snowflake and penguin appliques, Triangle In A Square ruler, and the Delectable Mountains Quilt In A Day book--all in an Eleanor Burns' Stripper vinyl zippered project bag.

Go to quiltpatchfabrics.com/classes.htm for more details on all of our classes. To register call us at
704-821-7554.



New Email for Quilt Patch




Quilt Patch Fabrics has a new email address!




QPF@quiltpatchfabrics.com




Please change your records so we don't go into your spam folders.