It's SEW Cold Flannel Sale!
Snow, ice and frigid temperatures have us dreaming of warm and cozy quilts and inspired us to put all of our flannels on sale 20% off - 30% off for our Barefoot Club members!


Guess How Much I Love You - Flannel from Clothworks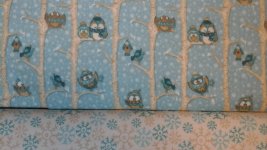 All flannels 20% off! 25% off for Barefooters!


Kaffe Fassett Mystery Quilt
Quilt Patch Offers the NEW Pastel Colorway!
Only 7 kits left - Call today! 704-821-7554


Sew and solve the 2018 Kaffe Fassett Collective Mystery Quilt! Our 10-month program includes all of the fabrics and patterns needed to complete the quilt top and binding for this beautiful 82.5" x 82.5" quilt - 12 yards of fabric total. We're offering t

he mystery in the Kaffe Collective's pastel colorway - made up of gorgeous sherbet colors. Sorry, can't tell you more than that - it's a mystery!

This is a fun project for the confident beginner/intermediate quilter on up to the experienced quilter who just likes a surprise.
The mystery begins in March 2018, arriving in a

clamshell package that is just the right size to store your project as you receive each months' fabrics. You'll also get a bonus 1

0-piece Mystery Kaffe Fat Quarter Pack as a thank you for playing with us!

Just give us a call at 704-821-7554 and we'll get you signed up. It's $100 down and $11 per month. We'll call you when the kits arrive and you can pick them up at your convenience. You must sign up for the entire 10-month program.

We'll have a Mystery Quilt Kick-Off Party when the first kit arrives! Mix and mingle with your fellow mystery buffs, create mystery sewing b's, and enjoy some snacks! L

et the mystery unfold!





Saturday Night Sew


Join us tomorrow, Sat. Jan. 20, for our Saturday Night Sew - everyone is welcome! Bring something to work on and enjoy the company of other quilters. There's no class in the classroom tomorrow so you can come as early as you like. We order out for dinner and wrap up around 8:30. The fee is $2; just call and let us know you're coming. 704-821-7554.

Barefoot Weekend
Today & tomorrow our Barefoot Club Members receive 20% off their total purchase (except classes, quilting, and previously discounted items). That's fabric, batting, books & notions - all 20% off!

Not a Barefooter yet? It's easy to join! For a small, one-time $15 fee you become a Barefooter for life! Every third Saturday and the Friday before it is a Barefoot Weekend - you'll receive 20% off of your purchase. And you'll often receive an additional discount on our sales throughout the year! For example, right now our flannels are 20% off, but our Barefoot Club members will get 25% off! Join this weekend and get the discount the same day - it'll pay for itself in no time!

New Around the Shop

Walk By Faith, by BLANK, features Psalms.
Lucky Me, from Henry Glass, is just in time for St. Patrick's Day!



Birds of a Feather shows our state cardinals against a background of dogwoods, and spring time hummingbirds with petunias.



Ajisai, from In The Beginning, has a light and springy feel with just a touch of the exotic.



Traditional is back with Garden Delights, from In The Beginning.



Espresso Yourself with this fun coffee line from Clothworks.



Big Splash, from Henry Glass, is great fun for kids and adults alike!



CLASSES
Beginning Quilting A-Z, 2-Day Class
Saturday, Jan. 17 & Saturday, Feb. 3, 10:00-3:00

Got the itch to learn how to quilt? This is the class for you! Think of this simple table runner as a small quilt; everything you learn here you can apply to any size quilt you'll to make. Learn: how to cut fabric, basic piecing techniques, how to apply borders, basic quilting techniques, how to make your own matching binding and how to bind your project!

Superbowl Quilt Party
Sunday, Feb. 4, 1:00-5:30

Skip the pregame but be home in time for kick-off! Join us for an afternoon sewing and snack. Bring whatever you'd like to work on and a snack to share.
Flatty Dog
Sunday, Feb. 18, 1:00-6:00 pm
This three dimensional stuffed puppy is a cinch to sew using QuiltSmart Gridded Interfacing. Perfect for your little ones! Or make one for every season!
Links, 2-Day Class
Saturday, March 3 & Sat. March 17, 10:00-3:00 pm
Have you wanted to make a beautiful Lemoyne Star but thought it would be too hard? This two-part class uses Deb Tucker's rulers to make this quilt easier than you think - without any Y-seams!
2018 Pajama Party Quilt Retreat
March 4-7, 2018 - Only 2 space left!
March 8-11, 2017 -

5 spaces left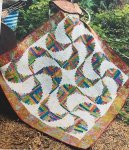 Join us for a relaxing 3-day getaway in the picturesque mountains of North Carolina. No cooking or cleaning, just fun and friendship-you deserve a little pampering! We call it the Pajama Party because you can roll out of bed and come to quilt class in your jammies! And the comfortable, beautifully decorated retreat is outfitted especially for the needs of quilters.

Our featured project for the March retreat is Rainbow Swirls. This is a curvy log house quilt and should be lots of fun.

All retreat supplies are 15% off at Quilt Patch Fabrics! For more information contact deborahquilts@hotmail.com.


Go to quiltpatchfabrics.com/classes.htm for more details on all of our classes. To register call us at
704-821-7554.




Pineapple

New Date Soon
Learn an easy way to make a beautiful, accurate Pineapple block.
Upcoming Quilt Shows

The Quilting and Needle Art Extravaganza
Click
here
for an admission coupon.