2018 Kaffe Fassett Mystery Quilt Kits Are Here!

We are pleased to announce the arrival of the 2018 Kaffe Fasset Mystery Quilt Kits! All of our kits are in the pastel colorway, although all of the boxes still say Light or Dark.


Our Kick-Off Party is on for tomorrow, March 22, 5:30-8:00 pm, along with a private after-hours sale just for our Mystery Quilters – 20% Off All Fabric! Join us for some light refreshments as you pick up the first month of our 10-month mystery and a complimentary Kaffe Fasset fat quarter pack. No RSVP needed – just drop by! If you can't make it to the party you can pick up your kit any day after Thursday.
If you have paid the initial $100 (plus tax) from now on you'll just pay $11 (plus tax) for each month's kit. As always, if you have any questions please don't hesitate to contact the shop at 704-821-7554.
It's already been a long journey and we're just getting started! We'd like to thank everyone for their patience and understanding on this roller coaster ride. Hopefully it's smooth sailing from here on! See you tomorrow!

Closed for Easter
Quilt Patch will be closed on Easter Monday, April 2.
We wish everyone a very Happy Easter!
New Around the Shop


Dancing Wings, from Studio E



Garden Delights II, from In The Beginning



Meow - Felines, from Studio E



Dino Party children's book and large print - perfect for a quick gift - from Blank Quilting



Anchors Away, from Studio E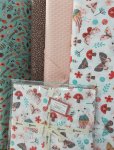 Forest Owl, from Clothworks


NEW! - 2018
Fall Pajama Party Quilt Retreat

September 23-26, 2018 - only 5 spaces left!




Treat yourself to a relaxing 3-day getaway in the picturesque mountains of North Carolina. No cooking or cleaning, just fun and friendship-you deserve a little pampering! We call it the Pajama Party because you can roll out of bed and come to quilt class in your jammies! And the comfortable, beautifully decorated retreat is outfitted especially for the needs of quilters.



Our project is yet to be determined, but all retreat supplies are 15% off at Quilt Patch Fabrics! For more information contact deborahquilts@hotmail.com. Go to quiltpatchfabrics.com/classes.htm for more details on all of our classes. To register call us at 704-821-7554.

CLASSES
Jellystone Park
Saturday, March 24, 10:00-3:00 pm
This lovely pattern calls for one Jelly Roll and your borders, but for a beautifully intricate look try using just 4 fabrics. No fancy ruler required! It may look a bit complicated but really it's not. Besides-that's what classes are for!




Pineapple
Saturday, April 14, 10:00-3:00 pm
Learn the easy way to make a beautiful, accurate Pineapple block.


Ginko Leaf Thread Painting
Saturday, April 28, 10:00-3:00

Learn the basics of painting with thread. In this class students will learn how to add color, shading and highlights to give a flat surface dimension.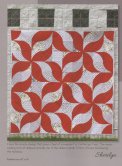 Contempo Quilts
Saturday, May 5, 10:00-3:00 pm
Learn to sew gentle curves with ease. A simple design creates movement in this lively contemporary quilt. The twirling ribbons practically burst from the surface! The teacher made hers with animal prints
with
a black background that really made them pop!


Basket Case
Saturday, June 16, 10:00-3:00 pm
This jellyroll friendly quilt pattern gives you a woven look that's fun and funky.



Go to

quiltpatchfabrics.com/classes.htm

for more details on all of our classes. To register call us at 704-821-7554.