This Week's New Fabrics!
Brilliantly beautiful precuts from the Kaffe Collective! Fat quarter bundles, 2 1/2" strips and 5" squares - get 'em while they last!
Fantasy is a new digitally printed floral line from Oasis Fabrics. The beautiful bright colors contrast dramatically with the rich black, white and grey tones - perfect for mixing and matching!
Saturday Night Sew, 3:30-8:30 pm
Join us tomorrow, Oct 20, for our monthly Saturday Night Sew! Bring something to work on and enjoy the company of other quilters. We start at 3:30, order out for dinner at 5:00, and wrap up around 8:30. Cost is $2 and you must reserve a spot. Just give us a call at 704-821-7554. See you there!

Christmas Stocking Demonstration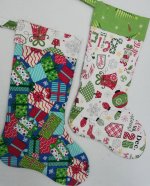 It's that time once again to start thinking about our holiday decorations. Join us Saturday, November 3, 11:00-2:00 pm as our guests Kay and Larry Giese demonstrate how to make a traditional Christmas Stocking. Precut kits are available for $5 per stocking, or you can choose a fabric that day and the Gieses will die cut your fabric into stockings for you - no charge!
This is a fun and simple project that's great for the entire family. Already have stockings for the family? Make one for your pet, your neighbor, or for Santa! Stockings make adorable holiday decorations - make one for each of Santa's reindeer and hang them on a garland. Learn how fun and easy it is to make cute Christmas Stockings at our demo on Saturday, November 3, 11:00 to 2:00 pm.
New Dates

for the


Pajama Party Quilt Retreat

!
PJ Party I - March 17 - 20, 2019
PJ Part II - March 21 - 25, 2019




Treat yourself to a relaxing 3-day getaway in the picturesque mountains of North Carolina. No cooking or cleaning, just fun and friendship-you deserve a little pampering! We call it the Pajama Party because you can roll out of bed and come to quilt class in your jammies! And the comfortable, beautifully decorated retreat is outfitted especially for the needs of quilters.



Our project will be announced soon. And all retreat supplies are 15% off at Quilt Patch Fabrics! For more information or to sign up for the PJ Party please contact deborahquilts@hotmail.com.

Go to quiltpatchfabrics.com/classes.htm for more details on all of our classes. To register call us at 704-821-7554.

New Around the Shop
The Quilt Life Alphabet panel - exclusively at Quilt Patch Fabrics!
New books provide endless inspiration!
A Quilter's 12 Days of Christmas Mug - Amazing Multi Purpose Screwdriver - Quilters Pocket Tissues.
Your rulers are expensive - protect them with the RulerSafe. The perfect way to transport you rulers to classes and retreats!
Keep pins close by while sewing with the Pin Pod Bracelet. This pin holder has a slap-bracelet style ruler and a blue plastic pod with a magnet center which allows you to place it anywhere on the bracelet and keeping your pins secure.
5" x 6.5" x 5.5" This mini box is perfectly sized to organize the little things: patterns, crafting supplies, quilting and sewing notions. They fold up and stow away in a snap. Made from high grade, tear proof, dirt resistant polyester. One compartment with two elastic mesh pockets.