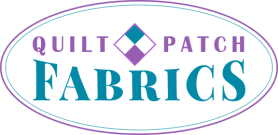 It's Barefoot Weekend!

Barefoot Club Sale
Tomorrow and Saturday (April 18-19) Barefoot Club members will get 20% off their total purchase! (some exclusions apply.) Stock up on your backing, batting, thread and more. Treat yourself to that new book you wanted - you deserve it!

Not a member yet? It's easy to join - for just $25 you're a member for life. Get your membership this weekend and it will pay for itself in savings!

Saturday Night Sew
There will be no Saturday Night Sew this Easter weekend. We'll get back together next month on Saturday, May 18. Have a great weekend!
New Around the Shop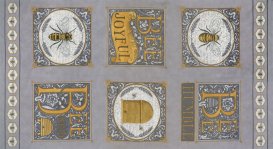 Bee Joyful - the latest in Deb Strain's Bee series for Moda.


New Bee Joyful Patterns from Coach House Designs.


Bee Joyful kit from Moda - includes pattern and all fabrics to make the quilt top and binding.



New Gelato Batiks from Island Batiks



Classic Black & White jelly roll from Blank Quilting - wouldn't this make an amazing Jelly Roll Rug?



Cryse Schmidt Modern Solids - New 2.5" Mini-Charms and free Chain Charm pattern download.



We now have dreamy wool pressing mats in sizes from 13" x 13" all the way up to the one that covers the whole ironing board!



New books for every type of quilting!


Limited offerings - get them while they last!



Just a few of the new patterns in the shop!


Customer Appreciation Day!


We love our customers and we want to show it, so we declare Saturday, May 11, Quilt Patch Customer Appreciation Day! We're going to treat you to lunch and prizes all day long! Stay tuned for more information!


Carolina Hurricane Project

The Carolina Hurricane Project was organized to try and provide some small comfort to the victims of Hurricane Michael and Hurricane Florence. To help with this endeavor, Quilt Patch Fabrics is one of four shops in NC acting as a drop off site for the project. You get the quilts to us, and we'll get them to the Carolina Hurricane Project.

As you might guess, a lot of quilts are needed. The project asks for twin, full or queen size quilts, as the need is so great that each household can only receive one quilt. The project will continue throughout the summer of 2019. We'll post more information as the quilt drive progresses.

And Even MORE New Classes!


We've added more classes to our class schedule! And when a class has sold out we've booked a second date. Sign up now - they're already filling up!




2019 Class Schedule


Click on the class name for a link to more information. You can sign in the shop or call us at 704-821-7554.





Die Cut Double Wedding Ring

- One spot left!
Saturday, April 20, 10-3 pm
No template cutting required! Die cut your fabrics in class and sew with confidence.

Bird Song


Saturday, April 27, 10-3 pm
Make this lovely spring wall hanging using the Quick Curve ruler. Easy curved piecing without pinning!





Die Cut Storm At Sea

- 4 spots left
Saturday, May 4, 10-3 pm
Cut your work in half for this classic, intricate beauty by die cutting your fabrics!





Fabric Collage


Sunday, May 5, 1-6 pm -

CLASS FULL - New date added below


Play with fabric all day while you practice the art of fabric collage. Choose your animal pattern- bunny, cat or dog!





Die Cut Pineapple


Saturday, May 18, 10-3 pm

This traditional pineapple block is created without a ruler - and no paper piecing required!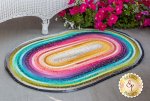 Jelly Roll Rug
Sunday, May 19, 1-6 pm -

CLASS FULL - New date added below
Turn one Jelly Roll into this gorgeous oval rug in one class - really!




Beginning Quilting A-Z


Two-day Class
Saturday, June 1, 10-3 pm &
Saturday June 8, 10-3 pm
Got the itch to learn to quilt? Need a refresher in basic techniques? This is the class for you!


Freedom's Flag
Saturday, June 15, 10-3 pm

The Mini Quick Curve Ruler is what makes the flag appear to wave in the breeze.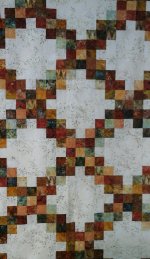 Double Irish Chain
Saturday, June 22, 10-3 pm

Have fun with this traditional quilt pattern! It's all done with strip piecing techniques.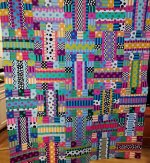 Mirepoix


Saturday, June 29, 10:00-3:00 pm
Just one jelly roll makes this fast, simply adorable quilt!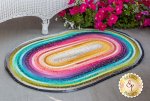 Jelly Roll Rug


Sunday, June 30, 1-6 pm
Turn one Jelly Roll into this gorgeous oval rug in one class!
Spiral Tree Skirt
Saturday, July 13, 10-3 pm

Create memories of presents piled high atop this soon-to-be family heirloom!



Lucky 13


Sunday, July 14, 1-6 pm
Turn 13 fat quarters into this beautiful quilt! This is the perfect follow-up class for beginning quilters and a great go-to for the experienced quilter.


The Giving Tree
Saturday, July 20, 10-3 pm

"And the boy loved the tree...very much. And the tree was happy." -Shel Silverstein, The Giving Tree Create your own giving tree using the Quick Curve Mini ruler.



Fabric Collage
Saturday, July 27, 10-3 pm
Play with fabric all day while you practice the art of fabric collage. Choose your animal pattern - bunny, cat or dog!


Mondo Bag
Sunday, Aug. 3, 1-6 pm
Turn your 2 1/2 inch squares into this roomy and stylish tote bag. But be careful - everyone will want you to make them one!


Whale Tale
Saturday, Aug. 10, 10-3 pm

Thar she blows! This whimsical ocean view is the perfect summer project. Sew easy, no-pin curves with the Quick Curve Mini ruler.



Sea of Serenity
Saturday, Aug. 24, 10-3 pm


Have fun with wedges! This beautiful quilt is just one of the patterns featured in the book, Wedge Quilt Workshop.







Bat Moon Rising


Saturday, September 14, 10-3 pm
Set the mood for your autumn decor!

For more information on our classes please go to http://www.quiltpatchfabrics.com or call us at 704-821-7554.