Introducing Summer WEEKDAY Classes!
Are your weekends full this summer? Can't find time for yourself? We're offering a series of weekday classes throughout the summer! Seven new classes are scheduled on everything from traditional Drunkard's Path (June 26 - this one can be die cut!) and Storm at Sea (Aug. 7 - also die cut!) to the more simple modern look of Flying Rainbows (July 31) to the super handy Quilted Duffle Bag (Aug. 21-22). Look for the sunshine symbol on our new Summer Series weekday classes. Click on the class name for a link to more information. You can sign up in the shop or over the phone with a credit card, just give us a call at 704-821-7554.

Hello Spring Block of the Month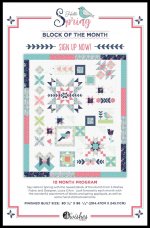 Say Hello to Spring with the newest Block of the Month from 3 Wishes Fabric and Designer, Laura Gilvin. Look forward to each month with this wonderful assortment of blocks and spring appliqués, as well as some hand stitched elements. This 10 month program begins in March 2020, but we need to order our kits by August 1st. Cost is $30 per month for 10 months or save $50 and pay $250 for the whole kit up front. Finished quilt is 80 1/2" x 96 1/2". If you would like to participate please call us and reserve your kit today! 704-821-7554.

Kaffetastic Summer Quilt Along


We have two kits available in the bold colorway - get yours today! Call us at 704-821-7554.

New Around the Shop


Bohemian Rhapsody, from Dan Morris for Free Spirit - an ombre print with tons of beautiful detail delights in 28 colors. This full width-of-fabric repeat provides lots of meandering color tones for great piecing and projects that pop. Great as a coordinate or stand-alone print, these fabrics are sure to become your favorite go-to color crush.



Color Fusion from Laura Heine for Free Spirit Fabrics. (Her Unicorn pattern is coming out soon!)



Holiday Lodge by Moda & Christmas Door pattern from Coach House Designs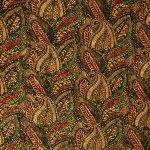 New Paisley Cork Fabric



Full Bloom from Quilting Treasures



Art Excursion by Denise Burkitt for Free Spirit Fabrics



Oceana by Dan Morris for Quilting Treasures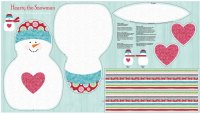 Hearty the Snowman plush panel from Quilting Treasures

Linus Blanket Chapter Closing
Due to the retirement of our Linus Blanket chapter coordinator our local Linus chapter is closing, and we will no longer be a drop off for Linus Blankets. The mission of Project Linus is to provide love, a sense of security, warmth and comfort to children who are seriously ill, traumatized, or otherwise in need through the gifts of new, handmade quilts, blankets and afghans, lovingly created by volunteer "blanketeers." If you would like to coordinate a chapter for Union County please go to Project Linus NC. Since 1995 Project Linus has delivered over 7.4 million blankets to sick children.

Saturday Night Sew
Everyone is invited to our next Saturday Night Sew on July 20, 3:30-8:30. Work on whatever you'd like in good company. We order out for dinner around 5:30 (bring cash). Please call 704-821-7554 to reserve your spot.

Carolina Hurricane Project


The Carolina Hurricane Project will continue throughout June and July. Twin, double, queen and king sized quilts are needed. The last day to drop off quilts at Quilt Patch is August 1. You get the quilts to us, and we'll get them to the Carolina Hurricane Project. Thirty-one quilts have been donated through Quilt Patch so far - thank you!

2019 Class Schedule
Summer Class Schedule
Introducing our Summer Series of Weekday Classes!
Are your weekends full? We're offering Wednesday classes throughout the summer! Look for the sunshine symbol on our new Summer Series weekday classes. Click on the class name for a link to more information. You can sign up in the shop or over the phone with a credit card. Call us at 704-821-7554.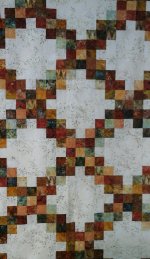 Double Irish Chain
Saturday, June 22, 10-3 pm
Have fun with this traditional quilt pattern! It's all done with strip piecing techniques.



Drunkard's Path


Wednesday, June 26, 10-3 pm
Learn to sew a traditional curve with this classic pattern.



Mirepoix
Saturday, June 29, 10:00-3:00 pm
Just one jelly roll makes this fast, simply adorable quilt!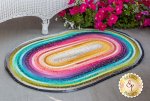 Jelly Roll Rug
Sunday, June 30, 1-6 pm
Turn one Jelly Roll into this gorgeous oval rug in one class!



Elevations


Wednesday, July 10, 10-3 pm
Explore color and shading with this simple yet striking modern quilt.



Spiral Tree Skirt
Saturday, July 13, 10-3 pm
Create memories of presents piled high atop this soon-to-be family heirloom!



Lucky 13
Sunday, July 14, 1-6 pm
Turn 13 fat quarters into this beautiful quilt! This is the perfect follow-up class for beginning quilters and a great go-to for the experienced quilter.



The Giving Tree
Saturday, July 20, 10-3 pm
"And the boy loved the tree...very much. And the tree was happy." -Shel Silverstein, The Giving Tree. Create your own giving tree using the Quick Curve Mini ruler.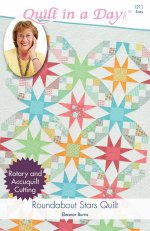 Die Cut Roundabout Starts

Wednesday, July 24, 10-3 pm
Let the die cutting do the hard work and you go straight to the fun part - sewing!



Fabric Collage
Saturday, July 27, 10-3 pm
Play with fabric all day while you practice the art of fabric collage. Choose your animal pattern - bunny, cat, dog, owl or flamingo!



Flying Rainbows


Wednesday, July 31, 10-3 pm
Make this modern beauty with half-square triangles - the unsung hero of quilt patterns!



Mondo Bag
Sunday, Aug. 3, 1-6 pm
Turn your 2 1/2 inch squares into this roomy and stylish tote bag. But be careful - everyone will want you to make them one!



Die Cut Storm at Sea


Cut your work in half for this classic, intricate beauty by die cutting your fabrics!



Whale Tale
Saturday, Aug. 10, 10-3 pm
Thar she blows! This whimsical ocean view is the perfect summer project. Sew easy, no-pin curves with the Quick Curve Mini ruler.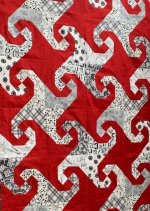 Die Cut Snail's Trail


Wednesday, August 14, 10-3 pm
This classic quilt pattern is a beauty in any color combination!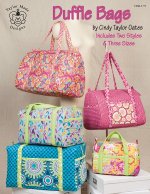 Quilted Duffle Bag


2-Day Class: Thursday, Aug. 22 & Friday, Aug. 23
You can make a beautiful weekend bag that rivals even a Vera Bradley tote! This two-day class guides you through every step of this lovely duffle bag. (There's also a Saturday class listed below in September.)


Sea of Serenity
Saturday, Aug. 24, 10-3 pm
Have fun with wedges! This beautiful quilt is just one of the patterns featured in the book, Wedge Quilt Workshop.



Bat Moon Rising
Saturday, September 14, 10-3 pm
Set the mood for your autumn decor!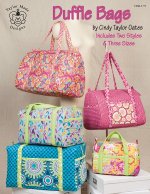 Quilted Duffle Bag
2-Day Class: Sat., Aug. 21 & Sat., Aug. 22
You can make a beautiful weekend bag that rivals even a Vera Bradley tote! This two-day class guides you through every step of this lovely duffle bag.

For more information on our classes please go to http://www.quiltpatchfabrics.com or call us at 704-821-7554.