New Fabrics!


Calling all Tula Troops: HomeMade is in the house! The latest from Tula Pink for Free Spirit Fabrics features all things sewing related with Tula's signature touch of whimsy. Yardage, fat quarter packs, 10" squares, 5" squares, hexagons and 2.5" strips!



Dream from Windham Fabrics - This Milestone Mat makes a perfect baby gift! Put the animal print on the back, have it quilted, and bind it with dots. Done! The new parents can take a photo every month as Baby grows.



Watercolor Sketchbook from Studio E Fabrics - Created by well-known water-color artist Grace Popp, this new lineshows an artist's view of natural elements. Painted in her delicate style, the collection has a 36-inch panel of a misty woodland scene, all-over patterns of flowers, birds, tossed flowers and an on-trend marble and stone design with accents of faux metallic gold to give the collection a pop of color. Colored in soft charcoals, grays and black with accents of faux gold, this palette works well with a modern farmhouse décor as well as with contemporary chic furnishings or a modern nursery. Quilt show is a free pattern available on the Studio E website.



Avignon from Blank Quilting - Beautiful sun baked colors define these stylized poppies. Large and medium print flowers will add dimension to any project along with the coordinates that include paisley, mini geometric, biased stripe, and scroll.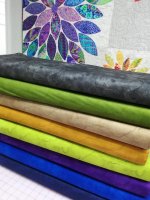 Beautiful new blenders - Urban Legend from Blank Quilting



Mary Ellen's own Best Press Spray Misting Bottles and funnel



Everything old is new again! This gorgeous sewing box is a salute to our quilting forbears. Made in Germany of solid beechwood with fine dovetailed corners. Also available in natural beechwood.



How many 2.5" squares can I get out of a Jelly Roll? How many 3" squares can I get from a Layer Cake? We can figure it out for you (with a calculator, a pencil and 15 minutes) but now you'll have that information at your fingertips!

EPPic Quilters Club
Our new English Paper Piecing Club meets again on Thursday, March 26, 6:00-8:00 pm.


We'll be working on the irregular hexagon ring, but you're welcome to bring any EPP project and join us. Cost is $5 for those who already know how, and $14 for those who need a lesson. Just call the shop to sign up, 704-821-7554.

Barefoot Club
Our next Barefoot Club Sale is March 20-21. Mark your calendars!

Summer Hours
In order to better serve our customers we are trying out some extra hours and one late night a week. Our new hours started March 9 with Daylight Savings Time, at the end of which we'll review the response and decide if we'll keep those hours through the winter as well. (Please remember we're a small shop and there may an occasional Thursday we can't stay open late.)
New hours:
Monday - Wednesday 10:00-5:00
Thursday 10:00-7:00
Saturday 10:00-5:00

NEW 2020 Class Schedule!
We currently have 23 classes! If the class you want is sold out keep scrolling down - we've added new dates for those.
Click on the class name for a link to more information. You can sign up in the shop or over the phone with a credit card. Just give us a call at 704-821-7554.


Starburst - March 14, 10:00-3:00

SOLD OUT


Get perfectly sharp points when you paper piece your blocks. $35 Teacher: Jane


Lucky 13 - Mar 15, 2020 01:00 pm
Turn 13 fat quarters into this beautiful quilt! This is the perfect follow-up class for new quilters and a great ''go-to'' quilt for the accomplished quilter. Teacher: Deborah
French Roses - March 28, 10:00-3:00

SOLD OUT


Add texture to your quilt with some free spirited raw edge applique. $35 Teacher: Jane


Scrap Petal Garden - Mar 21, 2020 10:00-3:00

SOLD OUT


Use your scraps to make a beautiful garden with this fun and easy raw edge applique pattern. Teacher: Deborah


French Roses - Mar 28, 2020 10:00 am

1 Space Available


Add texture to your quilt with some free spirited raw edge applique. Teacher: Jane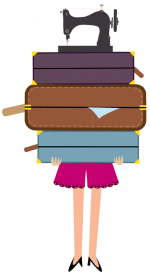 Pajama Party Quilt Retreat
March 29-April 1

SOLD OUT


Join us for a relaxing 3-day getaway in the picture perfect mountains of North Carolina. No cooking or cleaning, just fun and friendship - you deserve a little pampering! We call it the Pajama Party because you can roll out of bed and come to quilt class in your jammies! And the comfortable, beautifully decorated retreat is outfitted especially for the needs of quilters. Contact Deborah at the shop to sign up.
$375 Teacher:Deborah



For more information on our classes please go to http://www.quiltpatchfabrics.com or call us at 704-821-7554.