We are sorry to announce that Quilt Patch Fabrics is temporarily closing as of 2:00 pm tomorrow, March 28. We've stayed open as long as we felt we can, and now it's time for our staff to stay home and stay safe.

We will be open tomorrow, 10-2, with curbside service and then as of 2:00 pm Quilt Patch will be closed for the next 3-4 weeks. Thank you for all of your support and during this strange time. We look forward to seeing everyone when this mess is over.

In the meantime, stay connected with us!
Facebook page - Quilt Patch Fabrics, Ltd.
Instagram - @quiltpatchfab (This is NEW)

Take this time to sit back, relax and reflect on what's important in your life. And, of course, send us photos of you're works in progress. We expect to see a BUNCH of incredible quilts and projects being made!

Quilting Services
You can still turn in quilts for Kay until 1:30 tomorrow, but Bryan is not accepting new quilts until we reopen.

If you have quilts with us or from Kay that are ready for pick up please come and get them. If you have quilts in progress with us or Kay you will be contacted when they are finished.

Last Call for Quarantine Supplies
Get 10% off all items
- Stock up on supplies you'll need for the coming weeks: thread, fusibles, glues, EPP supplies, background fabrics, etc.
- Treat yourself to a Quarantine Kit!
- Ask us to make you a custom kit!
- Tell us what you need and we'll get it for you!



This adorable new Jelly Weave pattern takes one Jelly Roll and 3 yards of background fabric - let us show you a selection of Jelly Rolls and we'll find your background for you!



Make just about every quilt in this book with one Layer Cake and 4 yards of background fabric - we'll bring a selection of Layer Cakes and backgrounds to your car!


Class & Sew Cancellations

All classes and sews are cancelled through April 24, at which time we will see what's what. All cancelled classes will be rescheduled.

Quilt Patch is (Stir) Crazy for Kits!
Treat yourself to a Quarrantine Kit! 10% Off!


Maybe you're hunkering down at home, or maybe you just need a change; sometimes you just need a new project to entertain yourself. We've posted all kinds of kits on our website so you can see the variety.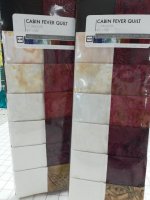 See one you like? Just call us - we'll take your payment information over the phone and bring it out to your car when you get here.

Stay safe, everyone -
We'll see you on the other side!