2021 Kaffe Fassett Quilt Along
Now Accepting Pre-Registration!

Join us on a color loving adventure with the Kaffe Fassett Gathering No Moss Quilt Along!
We're offering 2 dynamic color choices to suit any quilter's palette: Delft and Scarlet

The Quilt Along Begins July 6 - August 10, 2021, and will be
available in 6 video installments released once a week
featuring Kaffe Fassett and Lucy Liza.

How It Works:
Select your favorite color story (or make both!), then join the
six-week journey full of Kaffe surprises!
Each kit comes complete in an exclusive Kaffe Swag Tote with
a Kaffe Fassett Gathering No Moss pattern featuring instructions
for making each color story. Along the journey, you will gleen:
Color and design placement advice from Kaffe Fassett.

Tips and techniques for working with brilliant color and design

from guest experts.

Incentives to encourage you to "Gather No Moss" and keep creating.

Color-confidence using the simple-to-make Rolling Stone quilt booklet.
To pre-register simply call us at 704-821-7554.
The pre-registration fee is $49 (non-refundable)
$170.00 balance is due upon receipt of your kit.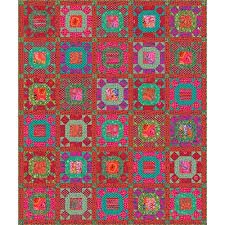 Delft (left and Scarlet (right) Color Stories
Exclusive Kaffe Swag Tote


Shop Hours


Tuesday-Saturday, 10-5 pm. (Yes - we're open on Thursdays again!)
We understand that some of our customers may wish to stay home these days, we're offering shop-by-phone service and curbside pick up after 2:00 pm every day we're open. Just call us with what you'd like to get (704-821-7554); you'll pay over the phone, call again when you pull up and we'll bring it out to your car.
Regular Shop Hours
Tuesday-Saturday
10:00am-5:00pm.
Offering contactless shopping by phone and curbside pick up from
2:00-5:00pm.
Stay connected with Quilt Patch!
Facebook - Quilt Patch Fabrics, Ltd.
Instagram - @quiltpatchfab
Stay safe, friends!