Welcome Back to Class!
We're very excited to (finally) announce our 2021 Class Lineup! There's something for every skill level from beginners to intermediate to our more advanced quilters. We are limiting classes to 7-8 people (6 for the Beginning Quilting A-Z class) so make your reservations early.

Here are six classes to get you back in the quilting groove. We'll be posting more soon, including fabric collage and machine ruler work!










Beginning Quilting A-Z - Jun 05, 2021 10:00 am
2-Day Class - Got the itch to learn how to quilt? This is the class for you! Think of this simple table runner as a small quilt; everything you learn here you can apply to any size quilt you'd to make. You'll learn: how to cut fabric, basic piecing techniques, how to apply borders, basic quilting techniques, how to make your own matching binding and how to bind your project!
Cost: $ 110.00
Freedom's Flag - Jun 26, 2021 10:00 am
The Mini Quick Curve Ruler is what makes the flag appear to wave in the breeze.
Cost: $ 40.00
French Roses - Jul 10, 2021 10:00 am
Add texture to your quilt with some free spirited raw edge applique.
Cost: $ 40.00
Honeycrisp - Jul 17, 2021 10:00 am
Learn to make flying geese blocks with ease - then turn them into stars!
Cost: $ 40.00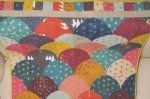 Dragon Glass Quilt - Jul 24, 2021 10:00 am
Mark the classic clam shell off of your bucket list! The Quick Curve Ruler makes this much easier than a traditional clam shell, but it still counts!
Cost: $ 40.00
Scrap Petal Garden - Jul 31, 2021 10:00 am
Use your scraps to make a beautiful garden with this fun and easy raw edge applique pattern.
Cost: $ 40.00
Class Policies - Classes must be paid for when you register. We can make your reservation and take payment over the phone. Just call us at 704-821-7554 to reserve your spot in class!
-You must wear a face mask covering your mouth and nose while on the premises. This includes during classes.
-You may cancel a class with seven days notice for store credit. The teacher may cancel a class with seven days notice if class minimum is not met.
-You get a discount on class supplies, and the day of your class you'll receive also receive a discount - just in time for your next project!


2021 Kaffe Fassett Quilt Along
Now Accepting Pre-Registration!
See the actual Kaffe Fasset Quilt Along quilts on display in the shop now! The photos really don't do them justice - you must see them for yourselves. But hurry - the exhibition moves on after this Saturday.

Join us on a color loving adventure with the Kaffe Fassett Gathering No Moss Quilt Along! We're offering two dynamic color choices to suit any quilter's palette: Delft and Scarlet. Quantities are limited!

Delft (left) and Scarlet (right) Color Stories and exclusive 2021 Kaffe Fassett Swag Bag

The Quilt Along Begins July 6 - August 10, 2021, and will be
available in six video installments released once a week
featuring Kaffe Fassett and Lucy Liza.

How It Works: Select your favorite color story (or make both!), then join the six-week journey full of Kaffe surprises! Each kit comes complete in an exclusive Kaffe Swag Tote with a Kaffe Fassett Gathering No Moss pattern featuring instructions for making each color story. Along the journey, you will learn:

-Color and design placement advice from Kaffe Fassett.
-Tips and techniques for working with brilliant color and design from guest experts.
-Incentives to encourage you to "Gather No Moss" and keep creating.
-Color-confidence using the simple-to-make Rolling Stone quilt booklet.
To pre-register simply call us at 704-821-7554.
The pre-registration fee is $49 (non-refundable)
$170.00 balance is due upon receipt of your kit.
Don't Forget Barefoot Club Days
Print this out and stick it to your fridge so you never miss another Barefoot Club discount weekend!
May 14-15 - That's this Friday & Saturday
June 18-19
July 16-17
August 20-21
September 17-18
October 15-16
November 19-20
December 17-18
Regular Shop Hours
Tuesday-Saturday
10:00am-5:00pm.

Stay connected with Quilt Patch!
Facebook - Quilt Patch Fabrics, Ltd.
Instagram - @quiltpatchfab
Happy quilting!