Fast & Fun Weekend Projects!
Looking for something fun to complete in a weekend? We have a variety of fun and easy projects you can do start to finish over a weekend!



Petal Pop Zinnia Pillow Pattern & Template


Use the same Petal Pop Template with the Petal Pop Santa and Tree patterns.



Whip up a lovely doll or an entire zoo for your little one! These panels include all of the pieces and we even have the stuffing!


Get a jump start on those holiday gifts with these easy, fun little projects!

New Books


Moda All Stars On A Roll Again!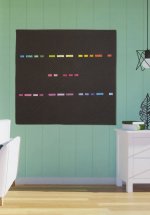 Morse Code Quilts - perfect for your Boy Scout!


Fast & Fun Quilts for Kids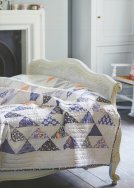 Quick & Easy Quilts


An Improv Handbook for Modern Quilters

Quilt Patch Fabrics Turns 25!
Join us in celebrating 25 years as your premier local quilt shop! This November marks our 25th birthday and we're celebrating from now until 2022! We're giving away prizes every week for the rest of the year! Congratulations to last Friday's Birthday Prize Drawing winner - Alice Kavadlo! Alice won an On The Go Moda charm pack.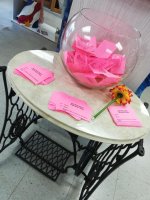 Every time you visit you can enter our weekly & monthly Birthday Drawing to win all kinds of goodies - charm packs, panels, patterns, notions, fat quarter packs, jelly rolls and more! Prize drawings every week and another drawing at the end of every month. In November we'll have three Grand Prize Winners! Your drawing slips will accumulate - the more you visit, the better your chances to win.
Watch our Facebook, Instagram and website for surprise birthday give away days!

2021 Classes!
Treat yourself to some "me time" with classes. You can book your class in the shop or by phone, just call us at 704-821-7554. There's something for every skill level from beginners to intermediate to our more advanced quilters.


Freedom's Flag - Jun 26, 2021 10:00 am
The Mini Quick Curve Ruler is what makes the flag appear to wave in the breeze.
Cost: $ 40.00


French Roses - FULL - Jul 10, 2021 10:00 am
Add texture to your quilt with some free spirited raw edge applique.
Cost: $ 40.00
Honeycrisp - Jul 17, 2021 10:00 am
Learn to make flying geese blocks with ease - then turn them into stars!
Cost: $ 40.00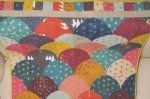 Dragon Glass Quilt - Jul 24, 2021 10:00 am
Mark the classic clam shell off of your bucket list! The Quick Curve Ruler makes this much easier than a traditional clam shell, but it still counts!
Cost: $ 40.00
Scrap Petal Garden - FULL - Jul 31, 2021 10:00 am
Use your scraps to make a beautiful garden with this fun and easy raw edge applique pattern.
Cost: $ 40.00


Diamond Chain - Aug 21, 2021 10:00 am
Diamonds? You're totally worth it! Make your own jewels using the 10 Degree Wedge Ruler.
Cost: $ 40.00
Intro to Ruler Quilting - Aug 28, 2021 10:00 am
Enjoy this introduction to the world of ruler quilting on your own home machine!
Cost: $ 60.00
Wind Drifter - Sep 18, 2021 10:00 am
Learn how to make perfect half square triangles (every time!) while making this playful pinwheel.
Cost: $ 40.00
Class Policies - Classes must be paid for when you register. We can make your reservation and take payment over the phone. Just call us at 704-821-7554 to reserve your spot in class!
- You may cancel a class with seven days notice for store credit. The teacher may cancel a class with seven days notice if the class minimum is not met.
- 15% discount on class supplies, and the day of your class you'll receive a 15% discount - just in time for your next project!


2021 Kaffe Fassett Quilt Along
Now Accepting Pre-Registration!

Please note: Due to shipping delays this program has been rescheduled to begin August 6 - September 15, 2021.
Join us on a color loving adventure with the Kaffe Fassett Gathering No Moss Quilt Along! We're offering the Delft colorway and quantities are limited.

Delft Color Story and exclusive 2021 Kaffe Fassett Swag Bag

The Quilt Along begins August 6 - September 15, 2021, and will be
available in six video installments released once a week
featuring various quilting artists including Kaffe Fassett and Lucy Liza.

How It Works: Join the six-week journey full of Kaffe surprises! Each kit comes complete in an exclusive Kaffe Swag Tote with a Kaffe Fassett Gathering No Moss pattern featuring instructions for making each color story. Along the journey, you will learn:

-Color and design placement advice from Kaffe Fassett.
-Tips and techniques for working with brilliant color and design from guest experts.
-Incentives to encourage you to "Gather No Moss" and keep creating.
-Color-confidence using the simple-to-make Rolling Stone quilt booklet.
To pre-register simply call us at 704-821-7554.
The pre-registration fee is $49 (non-refundable)
$170.00 balance is due upon receipt of your kit.

Yes - There IS A Quilt Show!
Statesville Fall Quilting Marketplace
September 17-18, 2021
Quilting Fabrics - Books - Kitting Yarns - Sewing & Quilting Machines
Statesville Civic Center
300 S. Center Street


Don't Forget Barefoot Club Discount Days

Print this out and stick it to your fridge so you never miss another Barefoot Club discount weekend!
July 16-17
August 20-21
September 17-18
October 15-16
November 19-20
December 17-18
Shop Hours
Tuesday-Saturday
10:00am-5:00pm.

Stay connected with Quilt Patch!
Facebook - Quilt Patch Fabrics, Ltd.
Instagram - @quiltpatchfab
Happy quilting!