Barefoot Club Weekend!
20% Off Entire Purchase For Our
Barefoot Club Members
Today & Saturday, June 17 &18

(excludes classes & quilting)
Row by Row
2016 Begins June 21st!
We are proud to unveil our shop's row for the
2016 Row By Row Experience - Home Sweet Home!
Nothing says home like your local quilt shop, and we thought our shop would be well represented by Charlotte's beautiful motorcycle trike. We even put our shop license plate pin on the back of the trike!




The fun kicks off on Tues., June 21, with our shop pattern available at no cost until Sept. 6, one pattern per customer. We're madly making kits, too!
This year each kit includes a cute Quilt Patch Lapel pin to put on the back of the trike!




We have the official Row by Row-Home Sweet Home fabrics and a variety of fun Row-related patterns.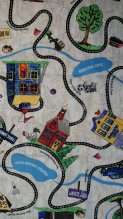 Collect our 2016 fabric license plate!

Saturday Night Sew!
Join us tomorrow for our Saturday Night Sew from 3:30 to 8:30. Come earlier to shop-remember it's Barefoot Weekend! Bring a project to work on and enjoy the company of quilter's. We'll order out for dinner around 5:30, or you can bring something with you. Please call us to reserve your spot 704-821-7554.
Upcoming Classes!
Go to quiltpatchfabrics.com/classes.htm for details
Call us to register
704-821-7554
Diva Wallet -- Will Be Rescheduled
The perfect accessory! You'll want to make one to go with every bag! You can even use it as a clutch. And don't worry about the zipper-it's easier than you think!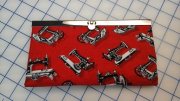 Jellystone Park -- Sat., July 16, 10:00-3:00 pm
The beautiful twists and turns in this quilt are a result of simple strip piecing and careful placement.
For a striking variation try using only 4 colors-
it has an entirely different look!