COMING SOON - CHARLOTTE QUILT SHOW
Two weeks until the Charlotte Quilt Show - A Walk Down Memory Lane - takes place. The dates are March 10-11 at the Union County Agricultural Center, 3230 Presson Road (Highway 74), Monroe, NC 28112. There will be 180 quilts on display along with 21 vendors (we will be there). Along with raffle baskets and a raffle quilt there will be a raffle prize of a Featherweight sewing machine donated by Featherweight Poppy. Please come see us at the show.
2017 Pajama Party Quilt Retreat

March 16-19, 2017 - Only 2 Spaces Left!
Join us for a relaxing 3-day getaway in the picturesque mountains of North Carolina. No cooking or cleaning, just fun and friendship-you deserve a little pampering! We call it the Pajama Party because you can roll out of bed and come to quilt class in your jammies! And the comfortable, beautifully decorated retreat is outfitted especially for the needs of quilters.

Our project is Patches of Life, from Quilt In A Day. This dynamic pattern features several variations for you to play with and create your own version. We'll use the new Large Triangle in A Square ruler and an old favorite, the Triangle Square Up ruler. All retreat supplies are 15% off at Quilt Patch-reserve yours now! For more information contact deborahquilts@hotmail.com.


2017 CLASSES
Magic Mountain-To be rescheduled
2-Day Class: Sat., February 25, 10:00-3:00 pm
& Sat., March 25, 10:00-2:00 pm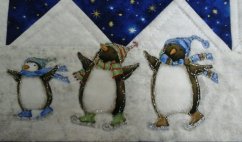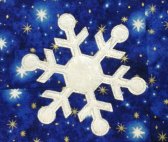 Create your own winter wonderland as you sharpen your triangle skills the Quilt In A Day way! $125 class fee includes kit with background & binding fabric, Magic Mountain pattern, snowflake and penguin appliques, Triangle In A Square ruler, and the Delectable Mountains Quilt In A Day book--all in an Eleanor Burns' Stripper vinyl zippered project bag.

Radiant
Sat., March 4, 10:00-3:00 pm


Careful color choice and placement are what give dimension to this fun fat quarter quilt. Don't worry-it's simpler than it looks!

Geode
Saturday, April 1, 10:00-3:00

Have you avoided (or "flown" from) those patterns constructed with flying geese blocks? Well, hide no more! This new class will instruct you on how to make flying geese using the "5 Square" method, allowing you to create two (that's TWO) flying geese blocks at the same time!
Scrap Crazy

Saturday, April 8, 10:00-3:00




The Scrap Crazy Template set allows for accurate cutting of odd shapes so they'll sew together with ease. The various shapes can be used to make a variety of different quilt patterns. For class you can choose whichever pattern speaks to you



Lucky 13
Saturday, April 22, 10:00-3:00




Turn 13 fat quarters into this beautiful quilt! This is the perfect follow-up class for new quilters and a great ''go-to'' quilt for the accomplished quilter. Use coordinating prints or choose a monochromatic color scheme--whether it's seasonal or something to match your living room, this pattern looks good in every style.



Diva Wallet
Saturday, May 13, 10:00-3:00

This frame wallet will definitely turn heads! You'll want to make one to go with every bag you have! You can even use it as a clutch. And don't worry about the zipper--it's easier than you think!
Go to quiltpatchfabrics.com/classes.htm for more details on all of our classes. To register call us at
704-821-7554.