Save Your Spot!
Saturday Night Sew

Join us next Saturday night for an evening of quilting fun! Bring whatever you'd like to work on and enjoy the company quilters (we're good people!). Sew starts at 3:30 and ends around 8:30. Cost is $2 and we order out for dinner. Space is limited - call us to reserve your spot! 704-821-7554.



Mark Your Calendars for the Barefoot Sale!


The monthly Barefoot Club Sale is next Friday and Saturday, August 18-19. Barefooters get 20% off their total purchase (excludes classes and quilting). Not a member yet? it's easy! Membership is a one-time fee of $15, then on the third weekend of every month you'll get 20% off your total purchase! Next weekend you can purchase the membership and use it the same day - it will pay for itself! And when we have sales throughout the year you'll get an additional percentage off the sale price! Join today!

Woolies

The Woolies - our wool hand applique group - will meet on Sunday, August 20, for an afternoon of fun and friendship. Bring your hand work and relax! Fun begins at 1:00.


New Around the Shop

Yummy batik precuts from Island Batiks



Double Wedding Ring Snuggle Pack and wedge ruler from Quiltsmart - the simplest way to make this traditional block!



10 inch hemostats - the best way to turn things inside out! Perfect for use with the Quiltsmart double wedding ring method.



Make this beautiful wall hanging in time for the holidays! Feathered Christmas, from Cherry Blossoms Quilt Co., is our featured project for the Sept. 13-16 Pajama Party Quilt Retreat.



New seam ripper from The Gypsy Quilter - the blade is wrapped with tiny wire to protect fabric from the blade while slicing through those un-seam-ly threads.


CLASSES
Calendar Quilts
Saturday, August 19, 10:00-2:00 pm



Learn to make applique seasonal wallhangings, one month at a time!

12 Seasonal wall quilt projects in one booklet, including full sized patterns! These are quick and easy applique designs, great as gifts (but keep some for yourself!). The August class will work on a project to hang at home in September. Class meets on the third Saturday of every month - come to as many or few as you like!


2017 Pajama Party Quilt Retreat
September 13-16, 2017 - Only 3 spaces left!
September 17-20, 2017 -

Full



Join us for a relaxing 3-day getaway in the picturesque mountains of North Carolina. No cooking or cleaning, just fun and friendship-you deserve a little pampering! We call it the Pajama Party because you can roll out of bed and come to quilt class in your jammies! And the comfortable, beautifully decorated retreat is outfitted especially for the needs of quilters.

Our featured project for the September retreat is Feathered Christmas - an adorable fusible applique wall hanging from Cherry Blossoms Quilting Co. All retreat supplies are 15% off at Quilt Patch Fabrics!
For more information contact
deborahquilts@hotmail.com
.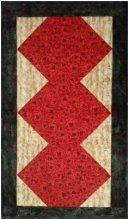 Beginning Quilting A-Z
Saturday, Sept. 30 & Saturday, Oct. 7, 10:00-3:00

Got the itch to learn how to quilt? This is the class for you! Think of this table runner as a small quilt; everything you learn here you can apply to any size quilt you'd like to make!

Double Wedding Ring
Saturday, Oct. 14, 10:00-3:00 pm
Dip you toes in the double wedding ring pool with a table runner or crib sized quilt. This lovely traditional pattern is made easy with Quiltsmart's printed interfacing and wedge ruler.


Links - To Be Rescheduled

Have you wanted to make a beautiful Lemoyne Star but thought it would be too hard? This two-part class uses Deb Tucker's rulers to make this quilt easier than you think - without any Y-seams!

Geode
Watch for New Dates!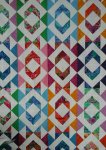 This bold geometric design will add extra sparkle to your home. If you love to make flying geese, you'll LOVE making this quilt!
Go to quiltpatchfabrics.com/classes.htm for more details on all of our classes. To register call us at
704-821-7554.



New Email for Quilt Patch




Quilt Patch Fabrics has a new email address!




QPF@quiltpatchfabrics.com




Please change your records so we don't go into your spam folders!