Big Announcement!

Your Attention, Please!

After 22 years of laughter, friendship, fun (and a few tears), Janice Cooper is retiring. Janice started the shop more than 22 years ago with Charlotte Harkey. As you may know, these amazing ladies met at a quilt show in Myrtle Beach in 1996. After talking for a while and sharing their mutual love of quilting, they decided they should open a quilt shop in the Charlotte area. And we're all so lucky that instead of just talking about it - they actually did it!

Charlotte retired last year and now Janice is passing the proverbial quilt needle of ownership to Bryan Gregory, Barbara Greene and Cristie Kiser (Charlotte Harkey's stepdaughter). Bryan does our quilting, Barbara handles our finances, and Cristie works behind the scenes on computer and legal stuff. Deborah is our Shop Manager and Sally, Peggy, Florence, Linda, and Penny make up our friendly, knowledgeable staff.

Janice is looking forward to spending more time working with her church on various volunteer activities. And we hope to see her often here in the shop!

New Around the Shop


Wonderlust from Benartex - also available in 10" square sets



On The Go from Studio E

New Books



New Ideas!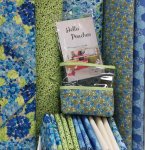 Hello Pouch - Beautiful zippered pouch you can see through!



Tissue Box Cover Ups - make one for every season!



Stitches of Love laser cut mug rug rug kits - all of the fun and none of the cutting!


NEW! - 2018
Fall Pajama Party Quilt Retreat

September 23-26, 2018 - only 5 spaces left!




Treat yourself to a relaxing 3-day getaway in the picturesque mountains of North Carolina. No cooking or cleaning, just fun and friendship-you deserve a little pampering! We call it the Pajama Party because you can roll out of bed and come to quilt class in your jammies! And the comfortable, beautifully decorated retreat is outfitted especially for the needs of quilters.



Our project is yet to be determined, but all retreat supplies are 15% off at Quilt Patch Fabrics! For more information contact deborahquilts@hotmail.com. Go to quiltpatchfabrics.com/classes.htm for more details on all of our classes. To register call us at 704-821-7554.


CLASSES


Pineapple Quilt
Saturday, April 14, 10:00-3:00 pm
Learn the easy way to make a beautiful, accurate Pineapple block.


Ginko Leaf Thread Painting
Saturday, April 28, 10:00-3:00

Learn the basics of painting with thread. In this class students will learn how to add color, shading and highlights to give a flat surface dimension.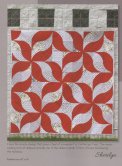 Contempo Quilts
Saturday, May 5, 10:00-3:00 pm
Learn to sew gentle curves with ease. A simple design creates movement in this lively contemporary quilt. The twirling ribbons practically burst from the surface! The teacher made hers with animal prints
with
a black background that really made them pop! Uses the Quick Curve Ruler and the book, One Wonderful Curve.


Basket Case
Saturday, June 16, 10:00-3:00 pm
This jellyroll friendly quilt pattern gives you a woven look that's fun and funky.



Urban Abacus
Saturday, June 23, 10:00-3:00 pm
Use the Quick Curve Ruler to make this lovely pattern recalling the mathematician's abacus.



Painted Ladies
Saturday, July 14, 10:00-3:00 pm
Quilt your own pretty ladies all in a row. Use a layer cake for a coordinated variety!



Go to

quiltpatchfabrics.com/classes.htm

for more details on all of our classes. To register call us at 704-821-7554.