EPPic Quilters Club


Say hello to our new English Paper Piecing Club, the EPPic Quilters (EPP - get it?). We have lots of ideas for fun little projects as well as quilt sized projects. Our next meeting is Thursday, Feb. 27, 6-8 pm.


We'll be working on the irregular hexagon ring, but you're welcome to bring any EPP project and join us. Cost is $5 for those who already know how, and $14 for those who need a lesson. Just call the shop to sign up, 704-821-7554.

Summer Hours
In order to better serve our customers we are trying out some extra hours and one late night a week. This will coincide with Daylight Savings Time, at the end of which we'll review the response and decide if we'll keep those hours through the winter as well. (Please remember we're a small shop and there may an occasional Thursday we can't stay open late.)
New hours starting Monday, March 9, 2020:
Monday - Wednesday 10:00-5:00
Thursday 10:00-7:00
Saturday 10:00-5:00

New Around the Shop


Noah's Ark Quilt Kit and coordinating fabric



Good Vibrations (remember vinyl and cassettes?)



My Pal Cuddle Kit - this ridiculously cuddly guy sold out in minutes but we have more on the way! Call 704-821-7554 to reserve your kit.



The Creative Grids® Rotary Cutting Mats are double-sided! One side features one-inch grids with eighth inch markings over the entire surface. All numbers are printed outside of the grid area, so they are always visible. Popular 1-1/2 inch cuts are highlighted with white stars; 2-1/2 inch cuts with white squares. Eighth, quarter, and third yard cuts are marked with dashed lines for easy reference. The other side is designed to use with the Creative Grids® Stripology series of rulers. Line up the fabric and rulers on the spaced horizontal half inch grid lines.



Window Panes Quilt Kit - Bright colors, big blocks. Painterly prints from Sue Penn's Garden Brighter collection are dazzling to the eye in this quick-to-stitch quilt.



Creative Grids Folded Corner Ruler - You'll never make stitch-and-flip corners again!



Sweet fluffy sheep in Farm Charm from Moda



Stir up some fun with these fun wooden cooking spoons. Each spoon speaks the truth: "I'd Rather Be Quilting!"



Cork bags are all the rage! the new cork fabrics sew beautifully and look amazing.



It's almost time to show you're Irish! Work up a quick and festive table runner to decorate your home.

New Clearance Room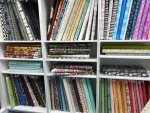 We're working on a new space for all of our freshly marked down fabrics! All are 25%-30% Off with a 1 yard minimum cut. Get an EXTRA 10% off if you finish the bolt. That's 35%-40% Off! Hurry while they last.



2020 Class Schedule
Click on the class name for a link to more information. You can sign up in the shop or over the phone with a credit card. Just give us a call at 704-821-7554.


Beginning Quilting A-Z
2-Day Class: Feb. 9 & 16, 1:00-6:00
Got the itch to learn how to quilt? This is the class for you! Think of this simple table runner as a small quilt; everything you learn here you can apply to any size quilt you'd to make. You'll learn: how to cut fabric, basic piecing techniques, how to apply borders, basic quilting techniques, how to make your own matching binding and how to bind your project!
$90 Teacher: Deborah Young

Introduction to Paper Piecing - Feb. 08, 10:00-3:00


Make this cute flying geese mini quilt while you learn two different methods of paper piecing:

one where you sew on the printed lines on a foundation paper, and the other - more recently developed - where you sew at the edge of a freezer paper shape. In class you'll try both types and see which one works beat for you! $40 Teacher: Jane LeBlanc
Fabric Collage -
Feb. 15, 10:00-3:00
Play with fabric all day while you practice the art of fabric collage. We will discuss fabric choices, layout options, cutting tips, and more. Bring your background already pieced and leave your machine at home - today we're going to run with scissors! You'll love this free form method of artful fabric collage. We'll also go over how to complete your masterpiece with all over quilting. $35 Teacher: Deborah Young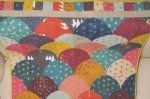 Dragon Glass Quilt
- Feb. 29, 10:00-3:00
Mark the classic clam shell off of your bucket list! The Quick Curve Ruler makes this much easier than a traditional clam shell, but it still counts! $35 Teacher: Jane LeBlanc
Die Cut One Block Wonders
- March 11, 10:00-3:00
No rulers or fussy template cutting for this beauty! Die cutting ensures accuracy when cutting the 8 identical triangles needed for each block of this lovely quilt.

$55 Includes die cutting for quilt size on display. Teacher: Kay Giese
Starburst
- March 14, 10:00-3:00
Get perfectly sharp points when you paper piece your blocks. $35 Teacher: Jane LeBlanc
French Roses -
March 28, 10:00-3:00
Add texture to your quilt with some free spirited raw edge applique. $35 Teacher: Jane LeBlanc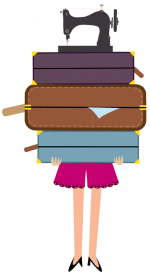 Pajama Party Quilt Retreat


M

arch 29-April 1 - 2 spaces left
Join us for a relaxing 3-day getaway in the picture perfect mountains of North Carolina. No cooking or cleaning, just fun and friendship - you deserve a little pampering! We call it the Pajama Party because you can roll out of bed and come to quilt class in your jammies! And the comfortable, beautifully decorated retreat is outfitted especially for the needs of quilters. Contact Deborah at the shop to sign up.
$375 Teacher: Deborah Young



For more information on our classes please go to http://www.quiltpatchfabrics.com or call us at 704-821-7554.